Innovation and Respect for the Environment
Industry 4.0 and energy savings. Two guiding principles that inspire our solutions for the future, without compromising on the quality and versatility of its products.  We invest in the technology of tomorrow, which plays a key part in the race towards Industry 4.0.
We design and produce new solutions for customer care and remote intervention on machines, like the latest application which, using a simple Wi-Fi connection and remote monitoring via App, allows Group technicians to adjust the operating parameters of patented Dumek technologies.
We are always beside our customers, ensuring them full support with a fast and efficient after-sales assistance. In conjunction with Marchesini Group, our after-sales service offer the best solutions, overcoming distances and communicating remotely.
We guarantee live assistance solutions and technologies that allow our operators to operate directly on the customer's machines, taking advantage of a secure connection and working directly on the vital parameters of the machine.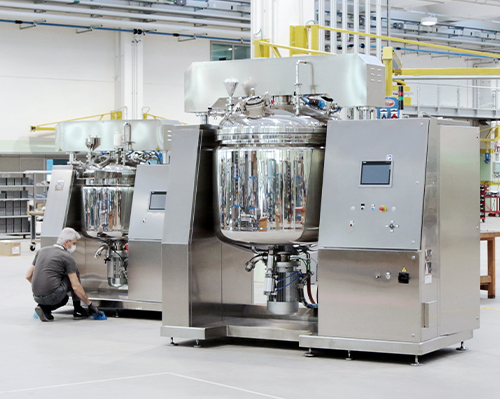 Our Research - A closer look
We invest in ongoing research into new solutions that harness the latest technology while also respecting the environment. One of the goals the company is working towards is the reduction of the energy impact of dosing machines, turbo-emulsifiers and melters.
Cosmetic product processing machines are energy-intensive due to the thermodynamic processes of heating, cooling and change of state inside the vessels where the product is processed. Our machines increase energy savings, reducing consumption and avoiding waste.
Our products are the result of a creative process shared with our customers.
For this reason, we have built two testing rooms, designed with the aim of offering them a complete experience. In this way, our customers can test their product directly on our machines, checking the quality and reliability of our solutions.